Move Your Customer Communications Beyond the Transactional to the Transformative
Move Your Customer Communications Beyond the Transactional to the Transformative
CONTACT CENTER DELIVERING TRANSFORMATIONAL OUTCOMES
A Contact Center That's a True Competitive Advantage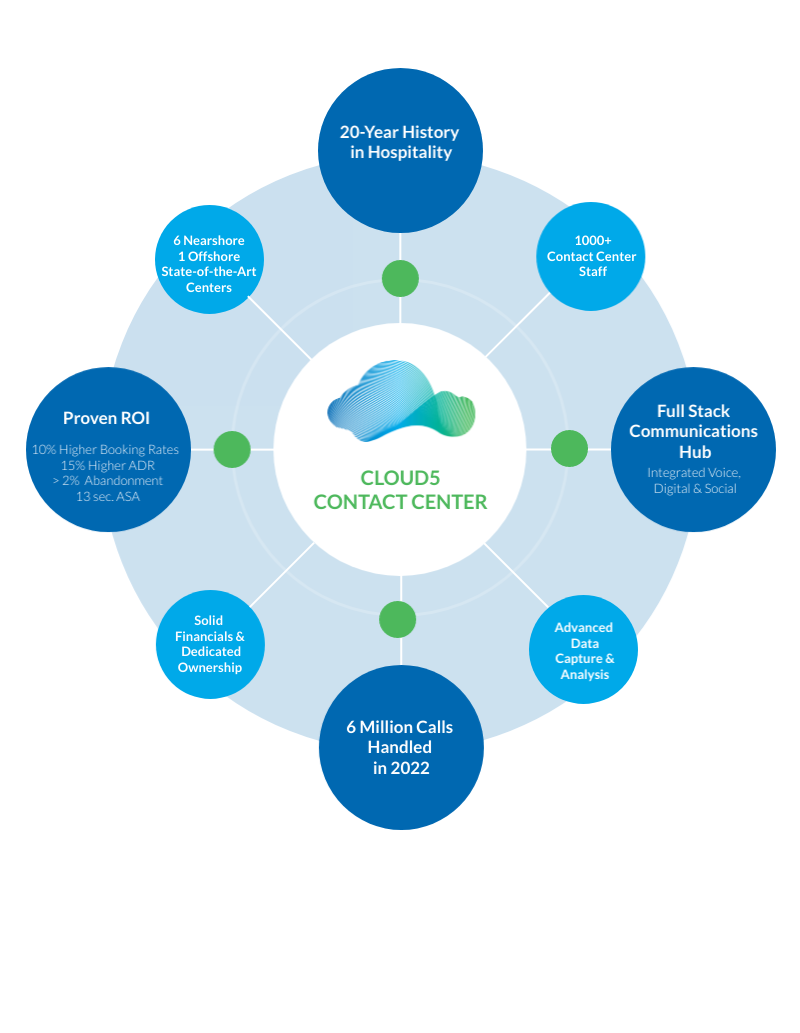 Across more than 6 million calls per year and a workforce of 1000+, Cloud5's award-winning contact center has helped some of the world's most discerning brands …
Transform revenue

delivering up to 10% higher booking rates and up to 15% higher average daily rates (ADR);
Transform customer experiences through highly proficient, brand-consistent contact handling;
Transform their traditional call center into a full stack, omnichannel communications hub;
Transform their expectations of an external contact center through a high-touch approach built on a foundation of transparency, accountability and results.
Choosing the right contact center provider is critical to your brand reputation and bottom line. Cloud5's award-winning contact center has set the bar for exceptional call handling and transformational experiences across hospitality, business services, consumer services and retail/e-commerce brands.
More Than Just a Call Center
What Our Clients Are Saying
"Since 2008, we've partnered with Cloud5 to deliver superior guest relations and reservations services for our US-based hotel operations. Our relationship with Cloud5 has always been a valuable one. In 2022, with the easing of borders and a significant uptick in the travel industry, it was the right time to expand our partnership to provide the same quality service to our guests in international markets – including the United Kingdom, France, Italy and Singapore."
"We are deeply committed to providing an experience tailored to the unique needs of every Sonesta guest, and the Cloud5 Contact Center helps us deliver on that promise every day."
Improve Your Customer Experience and Brand Reputation
24/7/365 White Label Call Handling
Your brand will be represented by the most deliberately recruited, trained and incentivized call center agents for superior, personalized customer engagements. All while reducing your costs through the application of best practices and technology.

Higher Sales Conversion Rates Increase Your Revenues
An independent market survey showed Cloud5 beats the average industry conversion rate by 6 – 10+ percentage points. Our processes and experience are second to none.

Flexible, Scalable Overflow and After Hours Support
Never miss an opportunity to accommodate a customer or capture revenue with world-class 24/7/365 call center services that efficiently scale to handle peak demand.

Customized Solutions and Process-Driven Results
Proven processes adapted to the needs of your brand, powered by performance-boosting AI-based technology, lead to faster call handling, improved first-call resolution, higher service levels, and successful upsell and cross-sell.
Cloud5 Agents are Trained to Your Standards
Industry's Most Tenured Agents
Our agents are tenured well above industry norms. In fact, agents stay with Cloud5 an average of 5 years, while managers stay for 7 or more. You can rely on the consistency of experienced agents who know your brand, your voice and your promise.

Multilingual Agent Support
Cloud5 provides you with highly trained professionals who create, cultivate and maintain your most important asset: your relationship with your customers. In English, Spanish and French, our agents become an extension of your team.

Hospitality Specialists
With 20 years of experience, the world's leading brands and thousands of hotels trust Cloud5 to represent their brand exactly the way they do.