Impact of Bleisure on Technology for Hospitality Providers
After more than two years of working remotely and limiting business and leisure travel, folks are back on the move, planning 'workcations' rather than 'staycations' as a way to recharge while still being productive. This change in planning has resulted in a new type of traveler: the bleisure traveler, or someone traveling for business, who then extends their trip and/or combines it with a leisure vacation. In fact, a recent poll of 1,117 U.S. workers found that 94% plan to 'workcation' in 2022, citing many benefits: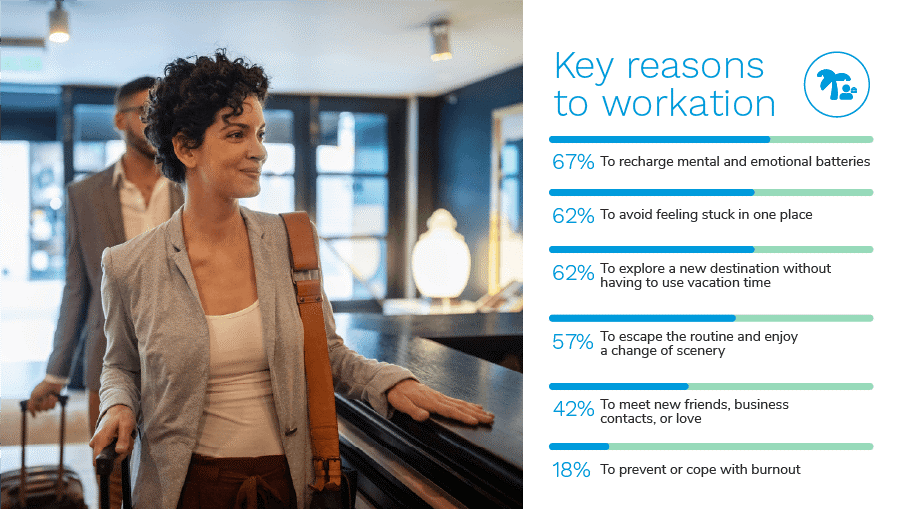 While FaceTiming your boss from the beach might be a stretch, working while on vacation is not new for many. However, traveler expectations have changed, expanding from just being able to check email, take calls, and edit documents to include video meetings and processing huge downloads. Working on vacation also requires access to fast, reliable WiFi to research tourist attractions and book meals. And if a family is in tow, they'll want to game and stream across many devices without extra fees, and with exceptionally fast connectivity.
With nearly one-third of polled workers planning to "workcation" in hotels, the pressure is on for hoteliers to ensure their technology and service offerings can deliver on these new expectations. It's going to take more than just an attractive room rate and complimentary breakfast to ensure a positive review and happy customers as hotels and resorts compete for bleisure travel business – a market expected to reach $497.5B in 2022.
For hoteliers, investing in technology that meets and exceeds these new expectations is critical to maintaining brand promise and a competitive edge. Here are just three of the areas that hoteliers should be investing in:
Increased Bandwidth: Fast, reliable WiFi is the number one amenity required by both business and leisure travelers. People are used to working, gaming, streaming, and more from multiple devices, and they expect the same services when they travel. Having a strong WiFi connection at a hotel is as important as having strong coffee in the morning. It's even more important than price. According to a recent Forbes study, in the hospitality industry, 31% of customers will pay up to 10% more and 10% will pay over 30% more for reliable WiFI. 65% of travelers noted that access to reliable WiFi was even more important than price (52%) when selecting a property. For hoteliers, this means that upgrading their WiFi to meet the bandwidth and property-ubiquity demands of business, leisure, and "bleisure" guests alike, should be a top priority.
Automated Systems:  No one likes to wait on hold, have a call dropped, or reach the dreaded voicemail system. With hotels experiencing the most significant staffing challenges they've seen in decades; this is happening more frequently than ever before. Hotels can get ahead of this trend by incorporating greater automation. For example, AI-powered intelligent voice response technology can offload on-property requests from hotel operators – such as: "What time does the restaurant open?" or "Is the pool heated?" – to reduce the number of calls and empower hotel staff to focus on high-value, in-person guest interactions. This type of automation can also replace legacy IVR solutions and provide AI-powered call filtering and call handling to significantly reduce call abandonment rates, offload calls and ensure that the calls that need real, human interaction are directed appropriately. With many calls offloaded (in some instances up to 50%), hotel staff can better focus on the guest in front of them.
Outsourced Contact Center Services:  Guests expect immediate, friendly service across every connection to your brand: email, chat, and phone. As we mentioned above, there are fewer employees on staff to answer phones, and even internal call centers and call handling operators are suffering shortages. One way to make sure calls are answered, guest satisfaction remains high, and your hotel never misses an opportunity to capture revenue is to work with a proven outsourced contact center. Look for an omnichannel contact center that trains its agents to act as brand ambassadors, that can address the high-demand needs of loyalty program guests and that is proven to increase bookings and rack rates, so your bleisure travelers receive top-notch service.
Is your hotel ready for the bleisure traveler?