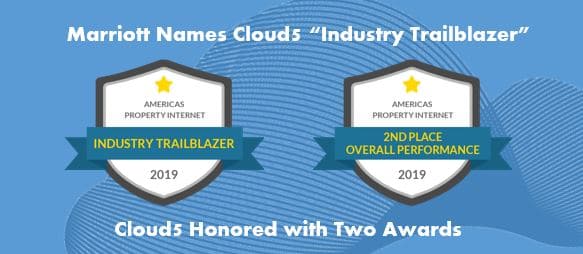 Posted on: February 9, 2020
Cloud5 Celebrates Two Marriott Certificates of Excellence
Marriott International is working diligently to provide a seamless experience to its hotel guests and associates and recognizing select partners along the way for making the system work well in a way that is transparent to its customers.
As a result of our efforts in 2019, Cloud5 has been recognized with two important awards from the Marriott Americas Property Internet and IT Teams:
Certificate of Excellence 2019 – Industry Trailblazer, Americas Region
For dedication to elevating the market, uncover new opportunities, drive innovation and promote knowledge sharing between peers and for the benefit of the hospitality vertical.
Certificate of Excellence 2019 – 2nd Place Overall Partner Performance, Americas Region
For showing exemplary performance in the adoption and compliance to the Property Internet Accountability framework.
At Cloud5, we appreciate the recognition and highly value our partnership with Marriott and the entire Americas Property Internet and IT Teams. Plus, we are proud of the Cloud5 team, and all of their hard work and collaboration in bringing great solutions to Marriott and the guests and associates we serve.
For more information on Marriott GPNS Solutions from Cloud5, visit here.
Looking forward to a great 2020!